Our Salon Petit-Déjeuner is connected to the two-Star restaurant in the south-eastern wing of the Wilhelminian house. On a clear day, the rising sun joins our guests for their culinary start to the day. The abstract painting, 'Coin de journal intime' – a true choreography of poise – by Japanese artist Nuit Sano, serves as a perfect complement to the harmonious milieu of clear lines. This also applies to executive chef Silio Del Fabro's delicately concocted breakfast – fancily decorated with fresh flowers and seasonal herbs, and served to accompany our guests on their serene mornings.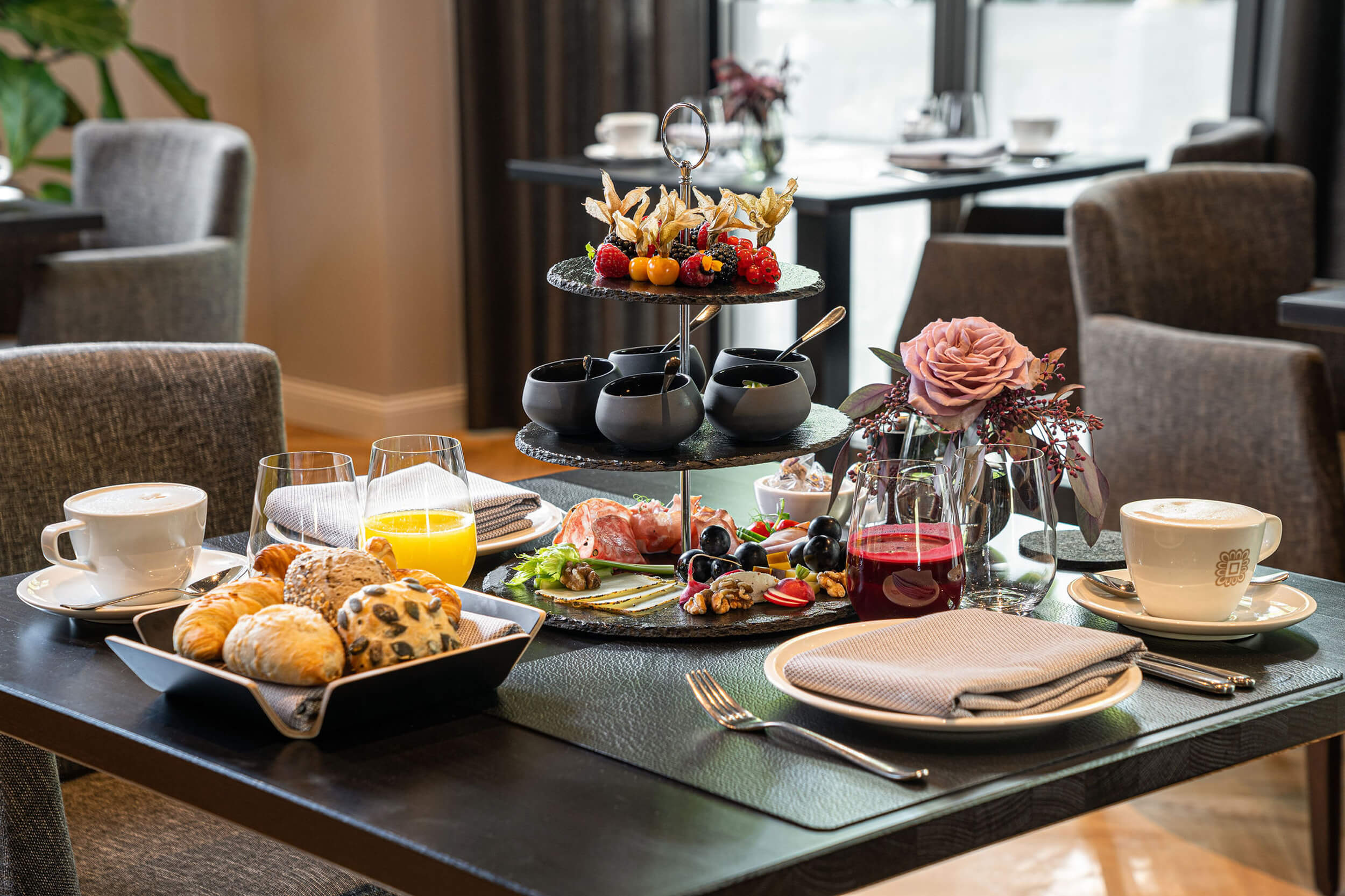 At the heart of this sumptuous breakfast is the Gourmet Étagère, used to serve home-made, regional and French delicacies. Home-made jams and preserves, fennel salami from the weekly market held directly in front of the hotel, honey from Blieskastel, seasonal fruits and vegetables from Stadtbauernhof as well as cheese specialties by Maître Affineur Waltmann. Combined with freshly churned sweet cream butter, home-cured salmon with herbs and lemon as well as country ham basted in red wine. Freshly brewed coffee from Saarbrücken's traditional roaster Kaffeebohne, delightful tea specialties from Mariage Frères, the oldest tea house in Paris and a daily selection of juices rich in vitamins, round off this superb breakfast.
Our à la carte breakfast menu is yet another signature concoction created by executive chef Silio Del Fabro. Caviar Imperial with brioche and lightly whipped crème fraîche, Onsen Tamago (egg) à la Bénédicte on toasted brioche with truffle or caviar, fresh pancakes with bacon and maple syrup as well as many other modern interpretations of traditional breakfast classics. To add some bubbly to your breakfast, we serve Brimontcourt Champagne, also available as a delectable Champagne Mimosa with freshly squeezed orange juice.